Welcome to 2011, friends! Say, I could go for a soda...wanna jet-pack to the Circle K?? Seriously, we're only 4 years away from 2015 (the year of hoverboards and time travel...according to Dr. Robert Zemeckis.) ;D So this year is off to a great start for me and I hope the same goes for you and yours! Thanks to all of you, the CR Mailing List is now approaching 900 subscribers!! In addition, I'm in the process of expanding and would like
you
to join us. As you all know, The CR Newsletter wants to help you promote yourself and reach your audience. Therefore, if you would like to be featured as an Artist Of The Month, or have your banner/ad posted here, simply e-mail ChanceRaspberry@hotmail.com with your requests! The guidelines are as follows:
* Artist Of The Month - FREE! All you have to do is join the CR Mailing List and submit your banner, art, or link for consideration.
* Basic Advertising - FREE! Just sign yourself and 9 consenting friends up to the CR Mailing List (have them e-mail me & drop your name) and we will post your ad in our News section.
* Premium Advertising - NOW ONLY $20/issue! For this small fee and the sign-ups of you and 5 friends, we will post your ad at the top of the newsletter, directly below the CR banner.
* Ad / Banner Designs
- Don't have a banner to submit? No problem! I will personally create one for you. Please e-mail me for details and prices (Student Discount Rates
apply!
)
All ads must be submitted for consideration and pre-approved. You pay securely through PayPal and the option to renew or discontinue at any time is yours. Your ad will go out to over 850 pros, fans, and viewers! Take advantage of this great opportunity and SIGN UP TODAY!!
Operators are standing by
:
Alright guys, there's plenty to cover in this issue and we're about to dive right in, but before we do, I'd just like to give a shout out to our friends overseas. As we all know, the situation in Japan is still critical. Tokyo has begun evacuating, millions are without tap water, and the power plants are still leaking. It's a mess! Check out the following YouTube video posted March 28th, 2011:
I hope you will please join me in praying for Japan and all those affected by this disaster. If you care to donate, you may do so via
American Red Cross here.
Thank you all!
CUSTOMIZE YOUR VERY OWN SCARTOONS T-SHIRT!
That's right dudes and dudettes, the first official collection of
SCARTOONS
apparel is finally here! Available only @
Zazzle.com
, this creepy collection of T-Shirts showcases the two main characters from my up-and-coming animated horror series,
Psychotic Concoctions
.
Choose from 3 original designs in any size, color, or style. Buy them as they are or customize your own! And hey, while you're there, be sure to check out my
80s T-shirts
and other
custom threads
. These products are sure to become collector's items!! Get your hands on one (or more) today!!!

CUSTOMIZE YOUR VERY OWN JACUZZI FIEND T-SHIRT!
Double the
fiend
, double the fun!! Not only is the brand new CR single,
Chasing The Sunset
OUT NOW (only @
JacuzziFiend.com
), but
Jacuzzi Fiend
has also just released their first, long-awaited line of apparel! The above banner will take you to the
T-shirts
. To check out the new song (with lyrics),
CLICK HERE
or simply visit the
JF Website
. This song and our hearts go out to Japan and everyone suffering from its disaster. We are lifting you up everyday in prayer and in spirit. If you have been affected by this event, may God watch over you and guide you to safety. If you are already out of harm's way, please join us in praying for those who are still enduring the aftermath. Thank you, God Bless, and may this new song bring you as much joy as it's brought us!!!
(Dudes I Know That Maybe You Should, Too!)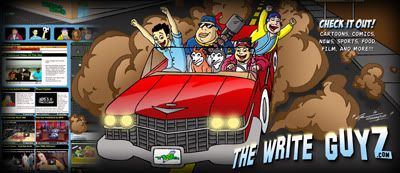 CHECK OUT THEWRITEGUYZ.COM TODAY!
This quarter's "Artist Of The Month" section goes out to an entire group of fun-loving individuals, better known as The Write Guyz. Their ring leader is a very talented and ambitions fellow named Chris Acosta, who hired me to create several comics and designs including the artwork above. On the left is a screenshot from their newly launched website, where you can watch videos, listen to music, and keep up with the latest in animation, film, comics, news, sports, music, and more! This intricate network of blogs, vlogs, interviews, and articles incorporates the input of all 5 Guyz, making it a true headquarters for online infotainment. A special thanks to The Write Guyz for bringing me on the project and being a part of the CR Newsletter! Good luck with the new site and all your endeavors, Guyz. We can't wait to see what you throw at us next!!
AND NOW FOR THE NEWS...
Thanks for reading, everyone! As always, it's been a blast!! YOU are what makes this all worth while, so thank you and please continue to share these letters and spread the word. Lots more projects, products, and opportunities are on the way so stay tooned and keep creating!!! Till next time . . .

SPACE ME

BOOK ME

TWEET ME
NOTE: If you or your company are interested in a limited license for use of this artwork or its respective intellectual properties, please feel free to contact me directly by responding to this e-mail. I will be happy to discuss such a purchase. Thank you.
All Content Copyright ©2011 Chance Raspberry. All Rights Reserved.