CHANCERASPBERRY.COM
*** NOW LIVE ON KICKSTARTER.COM (PLEDGE HERE) ***
CAMPAIGN ENDS OCTOBER 20th @ 2pm PDT...DON'T MISS IT!!!
KICKSTART MY HEART!!!

CHANCE RASPBERRY'S KICKSTARTER CAMPAIGN

NOW FEATURED ON THESE WEBSITES

80sNOSTALGIA.com
ANIMATIONMAGAZINE.net
DEVASTATORQUARTERLY.com
(INTERVIEW)
Rad tidings my dudical amigos, and welcome to this very special "Kickstarter-Exclusive" edition of the
Chance Raspberry Newsletter!
IT'S FINALLY HAPPENED: On
Thursday, September 20th, 2012
(because Thursday's the new Friday),
Little Billy,
my first, favorite, and most requested cartoon creation went LIVE on
Kickstarter.com!
WHAT IS LITTLE BILLY?
When I was 8 years old (3rd Grade), I was diagnosed with Tourette syndrome. At the time, it was a rare, new disorder making me part of the original
Generation Rx.
I was the quintessential "weird kid"! Nervous ticks, medicated, never really into sports or "the scene"; I loved heavy metal and horror so I frightened my peers. In short, I spent a lot of time alone...
drawing.
Today, N.I.M.H. (The National Institute of Mental Health) maintains that HALF the U.S. possesses some sort of condition similar to mine, meaning said generation is now more common than ever. This is my story - maybe it's yours, too.
LITTLE BILLY is an original, animated nostalgia series I have created for children with Special Educational needs, and the first cartoon ever to star a child that struggles with (and overcomes) a rare neurological condition.
Jam-packed with outrageous humor, youthful adventure, sincere life lessons, and of course, throwbacks to all your favorite childhood consumer brands, products, and content, the
Little Billy
series marks a return to the heart, depth, and morale of classic TV. Set in the 1980s, inspired by my own life and family sitcoms like
Perfect Strangers,
and traditionally animated in the Golden Age style of classic
Looney Tunes, Little Billy
is a heartfelt homage to all forms of childhood nostalgia, specifically speaking out to kids (and adults) with Tourette syndrome, ADD, OCD, and many other conditions.
THE CAMPAIGN:
Little Billy Vol. 1 "Special Ed"ition
DVD/Blu-Ray
THE GOAL:
$30,000 in 30 Days
to fund production & distribution
OPTIONS:
Pledge Amounts will range from $10 to $10,000
REWARDS:
Perks for pledging include (but are not limited to)...
- SIGNED
Little Billy Vol. 1 "Special Ed"ition
DVDs & Blu-Rays
- SIGNED CDs of the
Chance Raspberry
LP, "Old Souls...Young Hearts"
- SIGNED Prints, Original Drawings, Animation Cels, & Production Art
- Pilot Credits ranging from "Special Thanks" to "Executive Producer"
- Exclusive
Little Billy
custom Apparel, Collectibles, & MORE!
- Personalized caricatures of YOU in the
Little Billy
style
EVERYONE GETS REWARDED FOR PLEDGING!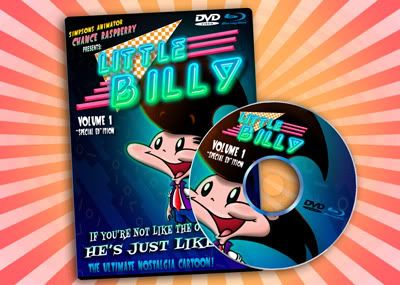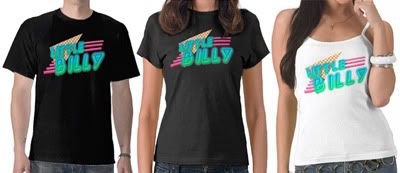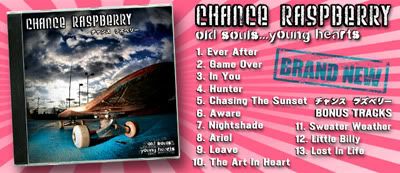 FUN FACT: $30K is exactly one-tenth (1/10) the minimum production cost of a single industry-made episode! I believe I can produce a cartoon of equal or greater quality for less money, and would love the chance to prove it.
"THIS JUST IN"
LITTLE BILLY'S FIRST FAN ART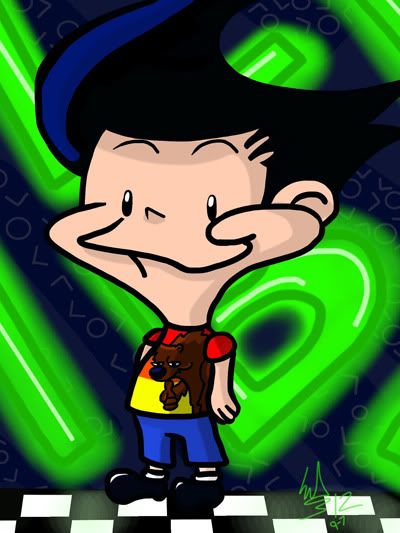 WILL KIDS EMBRACE LITTLE BILLY?
MONDO kudos and a very special thanks to my pal,
Andy Manley
(Age 15 - Washington) for answering this question by creating and posting the first
Little Billy
Fan Art from his iPad on Friday, Sept. 7th (3 days after the trailer's release!!) In response to a "thank you" I left on his Facebook, Andy wrote, "You're welcome! And thank you for actually looking at it! This was just going to be a quick doodle on the iPad, but then I ended up taking my time. You're an inspiration to me, and I want to see more of your art on Facebook. When this gets on Kickstarter, I definitely want to back this project up! It's also an honor to be the first person to do fan art for this."
The character on Billy's T-shirt in this drawing is my original teen-comic strip icon,
Bearman
. Andy went on to say, "...I hope to draw more Little Billy in the future! He's a really fun character to draw. And PLEASE post more of your art! I read all your Bearman comic strips and want to read more. Bearman, Calvin and Hobbes, and Garfield are the only strips worth reading to me." What an honor and blessing! Thank you from my heart and soul for your kind words, Andy. You made my day. =)
BILLY IS REAL!
See any resemblance? The above (right) is a picture I took of my little cousin, Ayden (Age 2) being entranced by a passing thunderstorm. The picture was taken a few days
after
the creation and release of the trailer image (left). This is just one of
Little Billy's
many perks - he's a
real
character living the same life as
real
kids! And what's that coif-like shape on Ayden's T-shirt? Look's familiar...

WHAT'S ON THE DVD/BLU-RAY?
The
Little Billy Vol. 1 "Special Ed"ition
DVD/Blu-Ray will not only serve as the official pitch pilot for the complete
Little Billy
series, it will also be a modern educational video for all kids with Special Educational needs! DOCTORS, TEACHERS, and PARENTS everywhere will be able to educate
and
entertain their patients, students, and children with this animated adventure starring someone just like them!
LITTLE BILLY VOL. 1: "SPECIAL ED"ITION
- An Introduction by Chance Raspberry
- The full-length, full color, TV Pilot of
Little Billy
(For Kids)
- The complete, UNCUT, Extended Pilot of
Little Billy
(For Parents)
-
Little Billy: From Concept To Chaos
(The "Making Of" Featurette)
-
Growing Up Different: Chance's Story of Life with Tourettes
- A sneak peak at the entire First Season of
Little Billy
-
Little Billy
"1980s Flashback" Commercials & Promos
- The
Little Billy
Theme Song (Full Version) Music Video
- From The Vault: Script, Storyboards, Layouts, Pencil Tests, & Art
- Alt/Deleted Scenes, Blooper Outtakes, & Trade Secrets
- AND...A short
BONUS CARTOON
if additional funds are raised!!!
WHAT IS KICKSTARTER?
Kickstarter.com
is the #1 web-wide funding platform for creative projects.
HERE'S HOW IT WORKS
: A creator launches a campaign to fund a personal project and offers rewards, such as screen credit, merchandise, autographed memorabilia, or the product itself, to all investors in exchange for their financial pledges. Neither the investors nor Kickstarter obtain any creative control, ownership, or stake in the creator, their company, or their project.
The cost of this service is an 8-10% cut of the creator's pledge total (split between Kickstarter and their partner, Amazon.com).
Since its initial launch just a few years ago, Kickstarter (powered by online giant, Amazon.com) has sparked what they're now calling the Crowd-Funding Revolution, and has literally made the approach of pitching to "middleman" entities obsolete! We, the creators, now have complete control over funding, producing, and distributing the pure, uncut content our audience wants - DIRECTLY TO THEM! Many successful creators have been (and are) already utilizing this powerful tool, including the renowned
John Kricfalusi
(creator of
Ren & Stimpy
) and
Joe Murray
(creator of
Camp Lazlo
and
Rocko's Modern Life
).
The best thing about Kickstarter is ALL transactions are handled by Amazon.com, the world's #1 online store! Pledges are made through Kickstarter's platform and processed by Amazon as if you were simply shopping online. Better still, just like a pre-order, Amazon will store your pledge transaction and you will NOT BE CHARGED until the campaign's financial goal is met or exceeded. If I don't meet my goal on deadline, ALL pledges are voided and everyone keeps their money...please, help me NOT let that happen! ;)
AND THAT'S A WRAP!!!
There you have it, gang! I can't tell you how excited I am to finally be launching this project after over a decade of hard work and development!!
Little Billy
is my baby - my
Simpsons,
my
Ren & Stimpy,
my
Family Guy.
10+ years of experience as a working professional in the animation industry has taught me many things (including how to successfully deliver this pilot), but perhaps the biggest lesson I've learned is that cartoons like this
don't
get made by big studios, companies, or networks - no one wants to take the risk. By joining forces, you can help me reach the level of Matt Groening, John K., or Seth MacFarlane, AND be directly involved in producing the pure, uncut entertainment YOU WANT - DELIVERED "MIDDLEMAN-FREE" RIGHT TO YOU!!!
To wrap things up on a super celebratory note, I'm pleased to announce that
all three
of the Kickstarter projects I invested in (featured in last month's issue) have since been successfully funded!! CONGRATULATIONS to
Scout Raskin
,
Jan Utstein & Digger T Mesch
, and the notorious creator of
Ren & Stimpy,
John Kricfalusi
for meeting
and exceeding
their goals!
My next "Little Billy Launch" issue of the
CR Newsletter
will go out as soon as this Kickstarter campaign is LIVE (on or around September 20th). Keep an eye on your Inbox and Junkmail folders for that, news, and more details, including how I came up with
Little Billy
and that BONUS CARTOON I plan to make if we exceed our goal! Thank you all so much for your love and support all these years,
and
a SPECIAL THANKS to
RedMoonDragon
for promoting this campaign on her new website (check it out
here
and look forward to her official featured article when the "AdSpace" and "Artist Of The Month" sections return!!) Be back soon, pals, and until then...
Eighties For Life,
Chance
www.KickstartLittleBilly.com
(...It all starts here!)

SPACE ME

BOOK ME

TWEET ME
NOTE: If you or your company are interested in a limited license for use of this artwork or its respective intellectual properties, please feel free to contact me directly by responding to this e-mail. I will be happy to discuss such a purchase. Thank you.
POWERED BY: CHANCERASPBERRY.COM
All Content TM & © Copyright 2012 Chance Raspberry.
All Rights Reserved.